Enter a title, author/artist, or descriptive keywords.


Or click here for a list of 50 subject headings.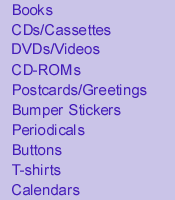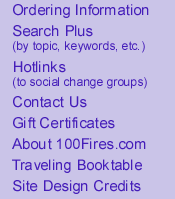 Copyright ©2001-2017
100Fires.com



---


Most of our discounted books are brand new hardbacks at paperback prices that we track down in publishers close-outs or overstock sales. Occasionally, we have slightly damaged books and offer them at discount. Only rarely do we sell used books, though this may be an area we expand into in the future. You'll always find an eclectic selection of books and other products ON SALE HERE.

Current discounted items:
Books:
---
CDs and Cassettes:
---
Videos:
---
CD-ROMs:
No CD-ROMs are currently on sale.
---
Postcards and Greeting Cards:
No Postcards and Greeting Cards are currently on sale.
---
Bumper Stickers:
No Bumper Stickers are currently on sale.
---
Periodicals:
---
Buttons:
No Buttons are currently on sale.
---
T-shirts:
No T-shirts are currently on sale.
---
Calendars:
No Calendars are currently on sale.
---




Most subject headings have clarifying subtitles on their respective subpages. To search by specific keywords — including names of people, places, social issues, corporations, etc. — use the SEARCH feature at the top-left of this page.





Still can't find what you're looking for? Visit your community's locally owned and managed bookstore (if it hasn't already been erased from memory by giant corporations). Or CLICK HERE to visit Northtown Books, the fabulous local bookstore in OUR community (Arcata, CA).