Enter a title, author/artist, or descriptive keywords.


Or click here for a list of 50 subject headings.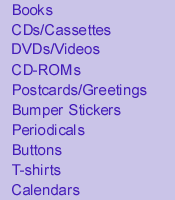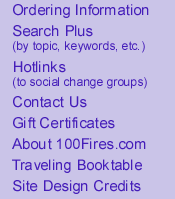 Copyright ©2001-2017
100Fires.com



---

We offer Gift Certificates, small and large. And our selection is diverse enough to satisfy anyone who's wanting to learn more about (or is engaged in) the good work to protect our beautiful planet and her many creatures (human and otherwise).

Simply use our online form below or send payment (check, money order, or credit card) for $20 or more (you decide the exact amount), and include:
The full name of the gift recipient (and postal address if you wish us to mail it — otherwise we'll mail it to YOU).
The dollar amount of the Gift Certificate.
Your full name and postal address (and e-mail address in case we have any questions).
A brief message from you — if you wish — to be included with the Gift Certificate (20 words maximum).
Mail Check or Money Order to:
100Fires Books
PO Box 86605
Portland OR 97286
For printed Gift Certificates, please allow two weeks to reach the intended recipient.

Purchase Gift Certificate Online!
To order a Gift Certificate online, please fill out the form below. A printed Gift Certificate will be mailed to the recipient within two weeks of ordering, along with instructions on how to redeem it. An E-Gift Certificate will be e-mailed to the intended recipient once your order has been processed. When you've completed the form, just click on the "Add to Shopping Cart" button.







Most subject headings have clarifying subtitles on their respective subpages. To search by specific keywords — including names of people, places, social issues, corporations, etc. — use the SEARCH feature at the top-left of this page.





Still can't find what you're looking for? Visit your community's locally owned and managed bookstore (if it hasn't already been erased from memory by giant corporations). Or CLICK HERE to visit Northtown Books, the fabulous local bookstore in OUR community (Arcata, CA).