Enter a title, author/artist, or descriptive keywords.


Or click here for a list of 50 subject headings.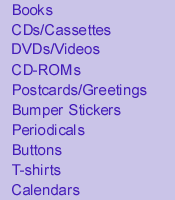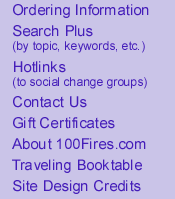 Copyright ©2001-2017
100Fires.com



---

Calendars
At this time, 100Fires.com carries very few calendars, and only during the fall season. Here are two we currently feature:
Adbusters/Media Foundation's wall calendar from Vancouver, Canada
Housman's Peace Diary, a small pocket calendar from London, England
If you'd like to suggest other calendars, please click here to share what you know.

Calendar search:








Most subject headings have clarifying subtitles on their respective subpages. To search by specific keywords — including names of people, places, social issues, corporations, etc. — use the SEARCH feature at the top-left of this page.





Still can't find what you're looking for? Visit your community's locally owned and managed bookstore (if it hasn't already been erased from memory by giant corporations). Or CLICK HERE to visit Northtown Books, the fabulous local bookstore in OUR community (Arcata, CA).