Enter a title, author/artist, or descriptive keywords.


Or click here for a list of 50 subject headings.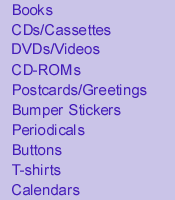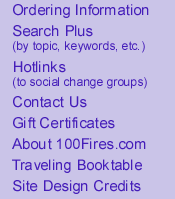 Copyright ©2001-2017
100Fires.com



---

Books
More than a thousand extraordinary books about that mysterious thing called social change — in the broadest sense of the word
Dozens of issues — scroll down to view full subjects list
Most titles from independent non-corporate publishers
Lots of hardbacks at paperback prices
New titles added every week
Please click here to suggest an item for this section.

Book search:








Most subject headings have clarifying subtitles on their respective subpages. To search by specific keywords — including names of people, places, social issues, corporations, etc. — use the SEARCH feature at the top-left of this page.





Still can't find what you're looking for? Visit your community's locally owned and managed bookstore (if it hasn't already been erased from memory by giant corporations). Or CLICK HERE to visit Northtown Books, the fabulous local bookstore in OUR community (Arcata, CA).